>>> No event for the moment.
Past Events
>>> Syminou in La Presse!
Saturday, september 1st 2012, Savannahs were celebrated in the newspaper La Presse. Our big Phoenix proudly striked the pose. Click on the image to read the article (french) about us and our cats.
Little errors were found in the article: the prices (from F2 to F5 instead of F1 to F5), and hybridation from bengals, but also from american shorthair, egyptian mau and serengeti.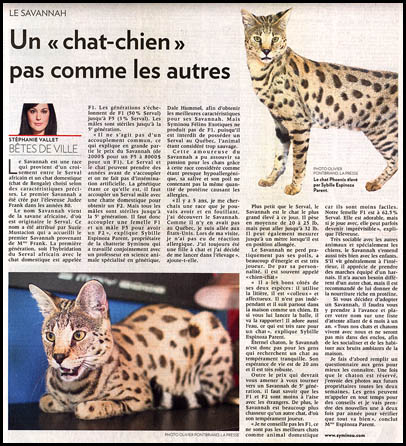 >>> Celebrating Africa!
It's now the second year that we put an ad in the Official Program of Vues d'Afrique presents PanAfrica international. We believe it's a perfect match since Savannahs are African Serval's proud descendant. In the 2008 program, Mystik was the model and in 2009, a new ad featuring Phoenix. Who knows who'll be the star of the 2010 program?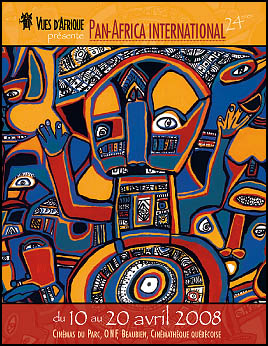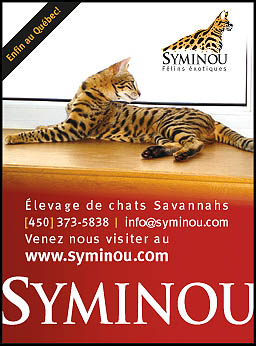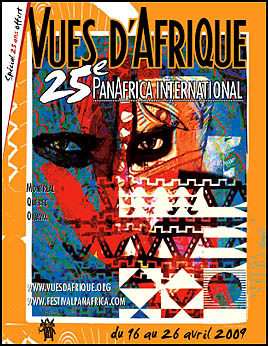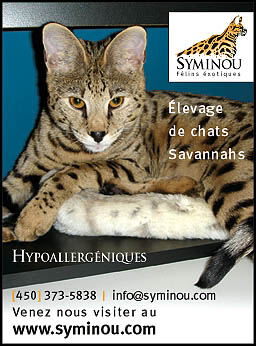 >>> "Salon National des Animaux de Compagnie à Montréal"
We were at the Salon National des Animaux de Compagnie à Montréal on November 29 and 30, 2008 with Mystik and Nyla. It was the biggest show we attended to. The week-end began with an interview at TVA for Salut Bonjour on friday November 28. Lot of people were astonished to see cats with such wild beauty and elegance. Thanks to everybody from Montreal and from around who came to visit us.

- Interview at Salut Bonjour, TVA - French Only -